GOVERNING FOR RESULTS - A DIRECTOR'S GUIDE TO GOOD GOVERNANCE
by Mel Gill
Although this book is intended to fill a gap in the resources available to volunteer members of nonprofit boards of directors, much of its guidance will also be useful for directors of public and private sector corporations. The strong research base underpinning this work also makes it of interest to researchers, academics and consultants. It adds perspective to the debate about governance models and offers guidance to board members with respect to board structure, responsibilities, governance practices and problems that commonly afflict boards. It is designed as a user-friendly guide for busy directors and executives who want concise, compact and well-researched answers to perennially troubling questions about governance, the role of boards and their relationship to staff.
Book
CD-ROM
---
Book Cover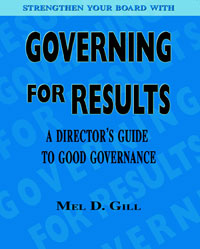 Book Details
Perfect Bound

Publisher:

Trafford Publishing Ltd. (2005)

ISBN:

1-4120-4938-5

Number of Pages:

184
Table of Contents & Preface
To view the table of contents and preface, click here

.
Reviewer Commentary
Howard A. Doughty has been a director/trustee of the The Kellett Group (publishing consultants), the John Howard Society of Metropolitan Toronto, the Richmond Hill Public Library, the Coalition of Richmond Hill Ratepayers, the Ontario Public Service Employees Union Local 560, and numerous other organizations. He teaches philosophy at Seneca College in King City, Ontario.
"I hesitate to say that any book is a "must read", for if everyone read all the books thus described in their field of activity or expertise, there would be little time left for action. Still, for people who sit on Boards of Directors — either freshly appointed or as longstanding participants — this is certainly a volume that should be purchased, pondered and kept close at hand until its contents have become "second nature" to the reader, as they seem to be to Mel Gill."

Please click on the following link http://www.innovation.cc/book-reviews/gill_2_had.pdf to see a full book review by Howard Doughty in the Innovation Journal, Volume 11(1), article number 8.
Al Hatton, President and CEO, United Way Canada - Centre Aide Canada and former Executive Director, Coalition of National Voluntary Organizations of Canada
"In 'Governing for Results: A Director's Guide to Good Governance,' Mel Gill has produced one of the most comprehensive texts on modern governance and its application to our sectors. He has presented information in easy-to-access components, supplemented by quick tips and real cases that enable readers and users of the Guide to assess their own practices and improve upon them. This is an important contribution and one that every board member and CEO would benefit from reading ."
David S.R. Leighton, Co-author of Making Boards Work: What Directors Must Do To Make Canadian Boards Effective ; Professor Emeritus, The Richard Ivey School of Business, U of Western Ontario; Chair, National Arts Centre
"I enjoyed the book very much, am very impressed with the work that has gone into it, and the clarity and quality of the writing. The book might benefit from greater emphasis on the key role of the chair in making things happen although you have dealt with this more than most. You have, however, done a most impressive job of covering the governance bases, and your first-hand experience is evident at every point."
Patricia McDermott, Chair, United Way - Centraide Canada
"Many of us engaged in the not-for-profit sector have waded through an ever expanding and sometimes intimidating wealth of material on governance and good governance practices.

I have now many books on the subject on my shelf but continue to return time and time again to Mel Gill's book, 'Governing for Results - A Director's Guide to Good Governance'.

It is straight forward, a smooth read, and offers a great deal of value in its abundance of practical advice and direction. 'Governing for Results' deals with the full spectrum of issues concerning not-for-profits in an increasingly demanding and complex environment. It offers clarity with respect to Board matters and relationships and advises on best practices. I believe the book will be of great value to those interested in improving their personal contribution to not-for-profit Boards. The book's wealth of advice also goes directly to better Board performance and organization success.

I highly recommend Mel Gill's book as a valuable guide and reference tool for those engaged in Canadian not-for-profit organizations, both large and small. "
Ron Robertson, Chair, Board Recruiting Practice, Ray & Berndtson Canada
"My work as Chair of the Ray & Berndtson Board Recruiting Practice, and as a member of several for-profit and voluntary sector boards, keeps me on the lookout for good resources on organizational governance. When I was asked by author Mel Gill to review an early draft of the manuscript for this book, I found it hard to put aside. The final published version has surpassed even my earlier enthusiasm for this work. This is a great book. I found it to be exceptionally thorough, practical and user-friendly. It would be a great primer, guide and 'go-to' manual for directors, particularly those of nonprofit organizations, but also for-profit as well."
Susan Carter, Former Executive Director, Voluntary Sector Roundtable; Consultant
"Excellent! Extremely clear outline of governance, what it consists of, and the various forms it can take. The examples and quick pointers are very helpful and would be of value to most organizations in thinking about how their board is structured and how it operates. Congratulations on a real contribution. This really is a multi-layered subject, and this book has laid out the parameters very well."
Mike Harris, Corporate Governance Leader, Partner, PricewaterhouseCoopers LLP
"This is a great book! It's a very good mix of the background/theory with real life examples and case studies to bring it life. The theory and background is great for newer board members but with the cases and quick tips, it is likely to be useful to experienced board members, managers, trainers and consultants as well."
Gordon Beal, C.A., Principal, Risk Management and Governance, Canadian Institute of Chartered Accountants
"Mel Gill's book "Governing for Results" comprehensively covers a very broad topic in a practical and thought-provoking way. It addresses the issues in a manner that all existing or potential directors of non-profit organizations will understand, and it provides a full package of very useful tools. It should arguably be required reading for all new board members of an NPO, especially if this is their first board. I believe, however, that even experienced board members will gain a lot of valuable information from it."
David Renz, Director, Midwest Center for Nonprofit Leadership, Bloch School of Business and Public Administration, University of Missouri, Kansas City
"This book offers a broad-based and comprehensive introduction to the work of a board and its members, yet it has much to offer as a resource to experienced board members as well. It offers a very useful blend of conceptual guidance and practical tools. There is a lot of 'firepower' in this book - it's an exceptional compendium of information and resources."
Allan Rix, Founding/Managing Director, Center for Voluntary Sector Research and Development, Carleton University, Ottawa (CVSRD); and recent Board Chair, Volunteer Canada
"I have worked on boards at both the national and local levels for some time and wish that a book of this clarity and depth had been available for both my personal use as a board member and for my use as a consultant to agencies in the sector. It deals with complicated processes in a clear manner and gives useful examples and tips for boards and their members."
Peter Broder, Canadian Centre for Philanthropy; Co-coordinating Editor, Primer for Directors of Not-for-Profit Corporations: Rights, Duties and Practices , Industry Canada, 2002
"Mel Gill provides a thoughtful and well-researched look at various board governance structures in use in Canada, and offers practical insights of use both to organizations considering what approach to governance will work for them and to directors wanting to understand what role they should play. I think this book would provide a very useful complement to the Primer for Boards produced by the Canadian Centre for Philanthropy and Industry Canada."
James B. Sellers, Consultant in Governance and Organizational Development, Vancouver
"This is, without qualification, the best handbook or guide to good governance I have read. Any type of board should be concerned with 'results'. But what I have found most challenging in my consulting to boards is to get them to understand what it means to be results-driven. Whatever type of board it is, results and knowing how assess them, are critical. The reference to the "zone of accommodation" really worked for me. I spend a lot of my troubleshooting time with boards trying to get them to recognize the need for that. The identification of nine types of boards is extremely useful. The treatment of board responsibilities is the best I have ever seen on the subject."
Brian J. G. Lachance, Chief of Staff, United Way of America
"Mel Gill's Governing for Results covers every angle of good governance. The basics are laid out in an easy to follow 'how-to' format. The more subtle and often over-looked fundamentals regarding board-types are invaluable and thought provoking. Gill makes it clear, it's easy to run a board meeting but it's not so easy to understand what your board's focus and structure is-and more importantly what do you want it to be and what does it need to be. One size does not fit all. With an incredibly useful table of contents, quick tips, case examples, and easy to use outlines, Governing for Results helped reshape the way I think about board management."
Vic Murray, Adjunct Professor, School of Public Administration, University of Victoria; former Director, School of Nonprofit Management, York University; recipient of 2002 ARNOVA Life Time Achievement Award
"Must say I enjoyed the manuscript thoroughly and am sure it has a future as a useful resource for boards. It's certainly much better than a great deal of what is out there now. I love the way it is organized, the readable style and depth of content. The very effective use of case illustrations and quick tips adds a great deal. It is also way above average in recognizing that 'one size does not necessarily fit all'."
Carolyn Duhamel, Executive Director, Manitoba Association of School Trustees
"This book has a user- friendly tone with practical ideas and advice. The discussion of board types and the analysis of Carver provide a very useful framework for thinking about board functioning. We appreciate the sensitivity to special circumstances, such as statutory requirements, which may influence board operations. All in all a very practical and easy-to-use book which will be of considerable value to new and experienced board members as well as to senior administrators who work with boards."
Dr. Kathy L. Brock, Assoc Prof. School of Policy Studies, Queens University, Kingston ON
"Comprehensive, useful, insightful, excellent! I found the sections on types of boards and on resolving conflicts very informative. I thought your criticisms of Carver were fair and appropriate. Since I was having trouble finding weaknesses, I gave the book to a student who has experience on a number of boards in the arts and who was writing her term paper on board performance to see her reaction. She came back and agreed that it was excellent and the best practical manual she had seen for boards."
Lee Giles, Consultant, Giles Goodman Group; former Executive Director, Altruvest
"Great book! Enjoyed it immensely. So practical! Extremely thorough! Great real life examples bring the concepts to life. A great Canadian resource on voluntary sector governance! Excellent governance tips and assessment tools.one I personally utilized with great success on my own charity board. I 've recommended it to my colleagues at the Canadian Institute of Chartered Accountants."
Nicole Zummack, Book Review Editor, Charity Village
"Governing for Results is comprehensive, well researched, and chock-full of essential resources to strengthen boards so they can help organizations operate effectively and reach their full potential. It is a thorough and accessible offering that is destined to become a must-read resource for board members and the organizations they serve."
Jane Garthson, Book Review Editor, Charity Channel; Principal, Mills Garthson
"Practical! Summarizes in plain language, wise practices that appear to be working well in better-run nonprofits. Highly useful to chairs, executive directors and those aspiring to either role. It will help them compare their board practices to potentially better ways of operating. Logical progression of ideas! Highly recommended as worthy of a thorough read from cover to cover. The material is written for an international audience, though Canadian nonprofit leaders can use it as an excellent companion piece to the Primer for Directors of Not-For-Profit Corporations."
Raymond Lemay, Executive Director, Services for Families and Children, Prescott-Russell, Ontario; author of numerous journal articles and book reviews; co-author with Robert Flynn of " A Quarter Century of Normalization and Social Role Valorization: Evolution and Impact . "
"This is an excellent book. Our board found the presentation of board types very illuminating. I've purchased copies for members of my board and I'd recommend it to others as a highly valuable resource."
Mark Lalonde, Program Director, Law Enforcement and Regulatory Training Programs, Police Academy, Justice Institute of B.C.
"Governing for Results is an excellent guide to new board members interested in being truly effective in their governance role. At the same time, it is a wonderful desk reference to more experienced board members. The book blends key knowledge with skills, practical tips and case studies readers can use to reflect upon their own practices."
Carter McNamara, MBA, PhD, Authenticity Consulting, LLC, Minnesota
"Your recent article (drawn from book) about types of Boards is one of the most accurate and meaningful articles that I've read about Boards -- and I've been involved in Board development for 20-plus years."
Ruth R. Armstrong, MBA, VISION Management Services, Toronto; Adjunct Faculty, York University - Schulich School of Business, Nonprofit Management and Leadership Program
"I think it's a great handbook crammed with all sorts of goodies. I've added it to my reading lists when I present or go into agencies with my consulting practice. I will also suggest that several copies be put into York's library for the students to access."
Yvonne D. Harrison, Assistant Professor, Center for Nonprofit and Social Enterprise Management, Seattle University
"I have found Governing for Results extremely useful as a text. It was particularly helpful to me as the theme of my course on board and nonprofit effectiveness: integrating theory into practice. It provided tools to empower students to take on leadership roles that they might have been hesitant to take--without the book. I think the book is terrific!

The majority of nonprofit students report that they found the text extremely useful; that they would use it again in their work. Some already have---by advising boards with great success. Other students, who have specialized in board effectiveness for the Master of Public Administration and Leadership final "capstone" projects, found it equally helpful.

One student used the book to re-focus a board that he was working with. This board was on the verge of collapse. The student used the board typology to show the board how it had slipped into an advisory role. He also used it to show them that what they desired was to be a 'results-based' board. This nonprofit, which provides a valuable service to the community, is very grateful for the student's work and the student is very grateful for the guidance of the book, which helped to inform and shape his work. "
Kim Egan, CMA, Controller, GH Manufacturing Inc., Belleville ON
"I was recently on a business trip to Europe and read the entire book during my long travels. I have picked up some excellent points for both nonprofit Boards that I am sitting on, as well as for our own companies. You have done a great job and I look forward to implementing some of the ideas. "
Dave Gill (No relation to the author), Director of Community Education and Essential Skills;
Chair of Board of Mediation Works, CHEC & Park Lane Centre, Shropshire, U.K.
"Governance for Results is a very practical guide to issues of governance based on sound academic research and study by the author over several years. Whilst based on research involving governance in North America, the principles embraced are equally valid for the United Kingdom or for any other country.

I have used the book in my academic studies, my volunteer work as chair of three nonprofits and my paid job as a senior manager in a top performing Further Education College. I found the book an invaluable resource for academic studies and in my volunteer work. I have also found that the governance principles contained are equally applicable to public sector management.

Governance for Results, whether used for academic study or practical guidance for trustees/directors, chairs, officers and managers, will provide the background and answers they need together with useful references to other works in this field. "
Michael Simpson, Executive Director One Sky, Canadian Institute of Sustainable Living.
"Good governance will determine the long term sustainability of any nonprofit organization. This is something one can learn quickly by reading Mel Gill's Governing For Results or one can learn the slower, harder way. through trial and error. Mel has given the proactive thinker a set of tools, guidelines and examples from which one can shape a growing, learning organizational environment that sets a strong foundation.

The book will strengthen your board and strengthen your organization. One Sky has used Governing For Results to review board governance styles, to inform individual directors and even to evaluate our own performance. A useful set of templates will save a director much time. Because we often work in an international context the book has been helpful in understanding issues of democratic decision-making and the development of boards. Highly recommended reading for anyone interested in making better decisions. "
Rev. Grant Abbott, Executive Director, Saint Paul (Minnesota) Area Council of Churches
My board president and I believe this is the best book we have read (and we have read several) to use with board members wanting to understand governance better, so that we can work together to improve the effectiveness of our organization.
Ordering Information
Buy direct from the author and save !
Publisher's List price $34.95
BUY NOW directly from the author for $29.95! Contact the author for additional discounts on volume purchases and special rates for students and libraries.
To order from the author please send an email to mel.gill@synergyassociates.ca with the name of your organization, name of a contact person, telephone and fax numbers, postal and e-mail addresses and specify the number of copies you would like.
Payment may be made by:
• Cheque, money order, Visa or Mastercard
To order now, please click here: mel.gill@synergyassociates.ca
The book may also be ordered from Trafford Publishing, Amazon.com or major book wholesalers.
---
CD-ROM Description
Save endless days of staff and volunteer time by purchasing this CD-ROM! It contains a complete set of sample bylaws, governance policies and committee terms of reference that may be readily adapted to your particular organization with a minimum of effort. It also contains self-assessment tools for the board (the 'Effectiveness Quick Check') , individual directors ('Director's Self-Evaluation Checklist') and the CEO/Executive Director along with templates for a letter of agreement for new board members, a code of conduct, an oath of office and confidentiality, as well as conflict of interest and donor confidentiality policies.
CD-ROM Ordering Information
The CD-ROM may be purchased directly from the author for $29.95 plus $5.00 shipping and handling. Please contact the author for payment and ordering information. Additional shipping charges for the CD ROM will be waived when ordered along with one or more copies of the book.
Governing for Results: Board Roles, Responsibilities and Relationships (Monograph only available in French)
« Pour une gouvernance qui obtient des résultats : Rôles, responsabilités et relations du conseil d'administration » by Mel Gill, copyright 2007
This monograph is a concise French-language treatment of essential topics covered in Governing for Results. It provides an overview of the basic board roles, relationships and responsibilities that directors of human services agencies must fulfill to add value to the services of the organizations entrusted to them; ensure that those organizations achieve the results that they predict and promise to their clients, members, funding bodies, other stakeholders and their communities; and, that they properly account to them for their performance.
The monograph may be obtained from Valoris: 1 800 675.6168 ou par courriel à info@valorispr.ca